About Gondwana Native Limes
Bunya Park, the home of Gondwana Native Limes is situated on the Mid North Coast , near the National trust village of Bellbrook. At the foothills of the New England plateau on the southern edge of the QLD NSW rainforest belt. Watered by the beautiful Nulla Nulla creek, it has been the home of the McIntosh family since the late 1900's… yes …around 1984.
We grew blueberries from 1986 to 2001 when the creek that gives…took away. Since then growing native cabinet timber trees and local species for forest restoration.
From this venture we experienced the Australian finger lime and then the Australian Red lime (aka Blood Lime). 'Bush tucker' at it's finest.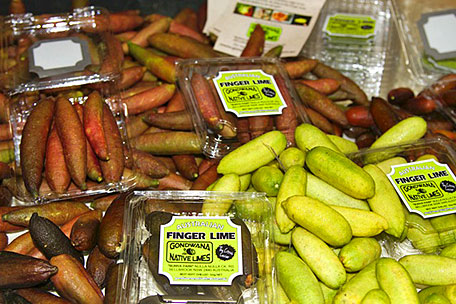 Our mission is to produce the best fruit possible by totally sustainable, natural, environmentally friendly practices. With 30 years of local knowledge and ongoing research into soil science and plant nutrition put into practice, the production of top quality fruit is assured. Love the environment it will love you back.
Fruit is picked with gloved hands for protection from some serious spikes as well as hygiene. To enable maximum freshness and shelf life, the limes are chilled in our custom built fan forced chill zone, packed and dispatched as expediently as possible. Consuming a Gondwana Native Lime will be a memorable experience.
Native limes are well suited to growing at Bunya Park. Although not an indigenous plant of the Mid North Coast the fact that the farm is virtually carved out of the rainforest makes for an ideal environment. Around 800 metres from the orchard are two 500 year old fig trees and accompanying vines and stag horns. A true example of our proximity to the rainforest